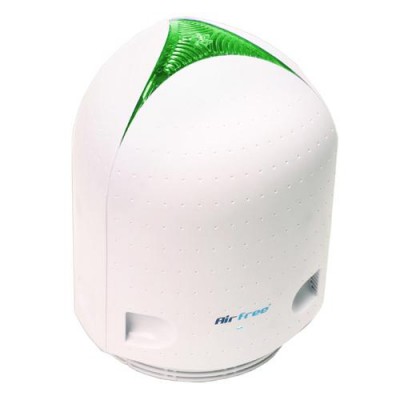 The AirFree E60 Air Purifier and Sterilizer is a clever gadget that uses a high temperature ceramic core (heated to 250 degrees Celsius) to incinerate mould, bacteria, tobacco, ozone, viruses, odours, dust mites, pollens and pet dander from the air. Independent laboratory tests have shown that the AirFree E60 can destroy up to 99.9% of all micro-organisms in the air.
The AirFree E60 has no need for expensive high efficiency particulate air (HEPA) filters or UV light bulbs, which reduces the operating costs significantly, as well as reducing the waste produced as a result of using an air purifier. Since the purifier doesn't actually filter the air, there are no filters to change at all.
The AirFree draws in air, and incinerates all the particles that enter into the unit. Additionally, any ozone in the air is reduced into standard oxygen gas. This is particularly helpful as ozone has been shown to trigger problems for asthma sufferers.
The AirFree E60 is powerful enough to sterilise a room of up to 300 square feet. However, it's a very portable unit, measuring just 8.4 inches (21.5cm) in diameter by 10.4 inches (25.5cm) in height. The E60 weighs 2.4lbs, which is just over 1kg. The E60 unit consumes around 50 Watts of electricity, so you do want to only have it switched on when you're in the room to keep energy consumption as low as possible.