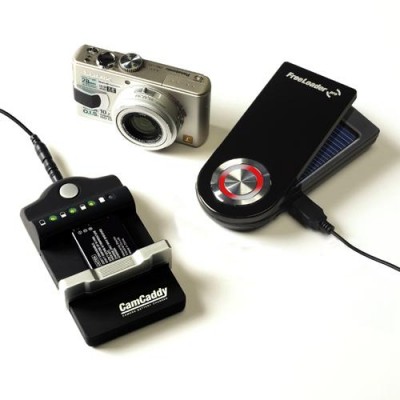 The Freeloader Pro is a solar powered charger for portable electronic devices. This device is a more advanced model of a previously reviewed charger, the Freeloader.  This charger can be used with a wide range of portable electronic devices including digital cameras, SLR and even video camera batteries due to the CamCaddy that is provided with it.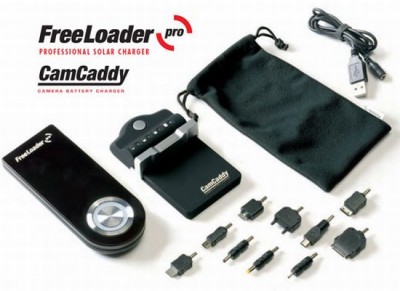 The Freeloader Pro has all the advantages of the Freeloader and more. A wider range of digital, SLR and video cameras are quickly charged by simply placing their battery into the CamCaddy and plugging that into the Freeloader Pro. When the Freeloader Pro is fully charged it can provide a full charge for most digital cameras and 80%-90% of charge for SLR and video cameras.
Of course cameras are only a small area of devices it charges, most portable electronics are catered for, mobile phones, iPhones, MP3/MP4 players, iPods, GPS devices, PDAs, hand-held gaming devices and even e-book readers. The Freeloader Pro can achieve full charge in around 8 hours using solar panels to charge its 1600mAh Li-ion battery. The device can be folded down into a compact size for transport, the solar panels can be opened out to take advantage of the sunlight when needed. Folded away the Freeloader Pro measures 15cm x 6.3cm x 2cm (5.9in. x 2.5in. x 0.8in.), fully opened out it measures 23.8cm x 6.3cm x 2cm (9.4in. x 2.5in. x 0.8in.).
The Freeloader Pro has a metallic button that when pressed causes it to light up a 'power halo' that indicates how much charge the device has, allowing you to be fully aware of how much charging it still needs or how much power it has left to boost your devices. Alongside charging from solar power, the device is also capable of charging itself through the USB ports of a computer or laptop. When charging through a USB port the device takes only 3 hours to fully charge.
The Freeloader Pro allows you to charge your portable electronics on the go, giving a ready source of power from an eco-friendly source. The improvements of the Pro version truly extend the products effectiveness at providing electricity for all portable electronics anywhere (for example the Freeloader could provide an iPod 18 hours of charge when fully charged, the Freeloader Pro can provide it with 28), and make the charger both more powerful and more user friendly.
The Freeloader Pro Solar Charger starts at around £50.
[ecu size="small"]39378[/ecu]