By Dan (EnviroGadget Writer) on January 12th, 2009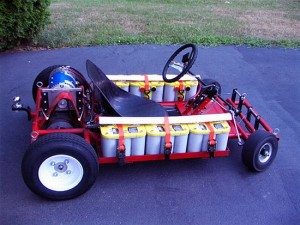 An engineer (read: big kid) has built an impressive go-kart that uses 6 Optima D34 (12V 55AH) batteries that allows the kart to reach speeds of up to 60 mph (100 kph). The kart is supposedly the fastest electric go-kart in the world, and therefore is a record-breaker. The batteries drive a S-33 motor and an Alltrax AXE-7234 controller, although the battery life is not mentioned.
What's interesting (and dangerous?) is that the batteries are mounted on the edges of the kart. These are automotive-grade batteries, weighing an incredible 42.9lbs (20kg) each! I bet that 6th battery is used just to carry the weight of the other 5 batteries! However, if he uses some large solar panels to charge the batteries, then it's a completely eco-friendly gokart! The rest of the kart is made from cheap car parts.
If you watch the video, he clocks the speed using a sat nav. Creative speed measurement!
Source: Eco-Friend