By Dan (EnviroGadget Writer) on April 10th, 2009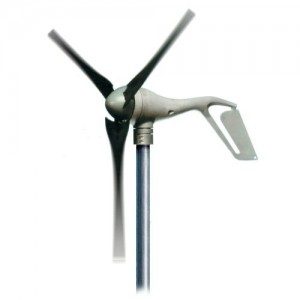 If you ever thought about putting up a wind turbine in your garden, you might have been put off by the cost of them. Decent wind turbines easily cost in the thousands in most currencies. If you fancy playing around with a wind turbine, but can't afford the thousands for a powerful turbine, then perhaps consider this smaller 12-Volt 400-Watt Wind Turbine, which only costs $570!
Ok, sure, you're not going to be able to run your whole home of this generator, but it's powerful enough to run a few of your gadgets. You can get the best of the energy it generates by dumping the energy into a high capacity battery using specialised charge controllers. You could potentially use this turbine for camping, sheds and cabins, or just for experimentation.
The turbine is capable of generating 12 Volts at 400 Watts, which is when the turbine blades are spinning at 28MPH. The 46in diameter blades are rated at 110MPH, so it should still be fine in bad weather. The tower kit allows the turbine to be mounted at 30 feet, where the turbine itself measures 15 inches in width, 9 inches in height, and 27 inches in depth.
The Wind Turbine is great value and practical at just $570, allowing you to experiment without breaking the bank. I suggest you read the reviews too, as they give you some technical tips and tricks.