By Dan (EnviroGadget Writer) on March 10th, 2009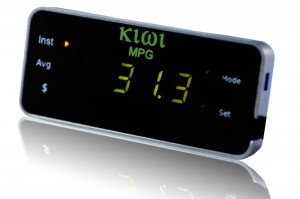 The Kiwi MPG is a plug and play fuel consumption meter for your car. The meter is fitted with 3 basic modes that display your current instantaneous MPG (Miles per Gallon) of fuel, your average MPG over multiple trips, and the total cost of your fuel usage over many trips. The gadget can help you identify your driving habits that give you the best and worst MPG readings, therefore helping you to save fuel and money.
As well as the 3 basic meter modes, you can also display the total fuel consumed (in gallons or litres), fuel remaining (in gallons or litres), distance to empty, engine RPM, vehicle speed, coolant temperature and throttle position. Measuring only 25mm x 625mm x 125mm, the Kiwi MPG unit can be fitted anywhere in the car without much difficulty.
The Kiwi MPG unit comes with a OBDII cable and plug that connects to your car's computer to grab the useful data used to calculate your fuel consumption. The gadget supports several OBDII/CAN Protocols, including ISO-9141, VPW, PWM, KWP 2000, 11Bit CAN and 29Bit CAN, typically found in cars made since 1996.
The Kiwi MPG costs just $89.99 plus shipping.