By Dev on June 28th, 2012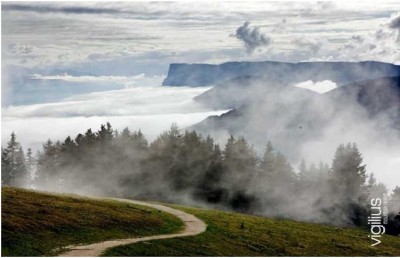 The word hotel not really fits the mountain Vigilius resort, because it can be said as out of ordinary place in any category of experience. It is like an inhabitable cloud which should be created with what you describe it.  It is like a modern monastery or cathedral of relaxation or you can say it an indoor forest.
The Vigilius mountain resort is located at a height of 1,500 meters and one can only reach through cable car and it is far from tensions, daily stress and pollution related factors. The guests will not see cars on Vigilius Mountain, because here human beings are close to the sky and an unknown serenity. This was designed by international well known architect Matteo Thun and conceived by a local entrepreneur Ulrich Ladurner.
So this is the place to cancel the mind from all past thoughts and refresh eh future with it. There is no television in the rooms, and the number of children admitted to the hotel at any one time is limited. All kind of noise seems to have been banished. In exchange, guests will find slow and gentle movements, lot of local larch, clay walls in the rooms which radiate warmth during the cold winter days, panorama windows all over the resort offering amazing views on the far Dolomites (since June 2009 UNESCO World Heritage Site) and the deep green of larches and meadows, crackling fireplaces and a fantastic panoramic endless pool as well as an outdoor whirlpool set among the trees. In the Vigilius mountain spa guests will forget time and space just feeling and living in the now and yet.
The spacious rooms and suites with their minimalist décor seem to absorb the personality of whoever occupies them, without ever imposing their own. The silence you experience at Vigilius mountain resort is more enjoyable with everything being warm and light. Guests can also borrow the books at Vigilius Piazza, where they can relax in front of fire place and give themselves up to contemplation.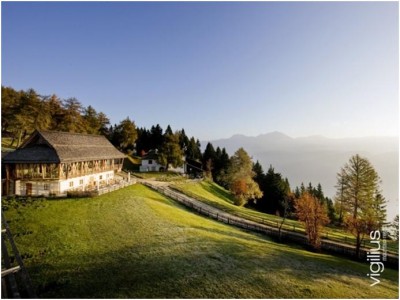 In the chef's creations the concept of regionalism is reinterpreted and complemented by ingredients, their combination and cooking techniques hailing from other sources. Accordingly, they open up refreshingly new perspectives of the local cuisine; giving rise to a colorful, modern, even avant-garde offshoot of classic South Tyrolean cooking that enchants visitors by marrying the region's scenic and culinary wealth with the imaginative genius of an internationally experienced chef. This resort offers move and explore programs, learning archery, enjoying ski piste or pristine stillness outside to mirror a renewed sustainable spirit in the soul.