By Dan (EnviroGadget Writer) on March 30th, 2009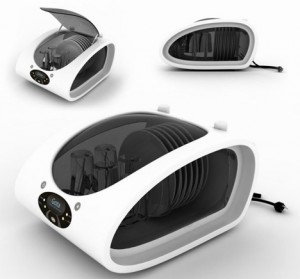 The Gota Dishwasher is a small worktop dishwasher for the kitchen. It's great for people who have small kitchens and don't have the space for a full-sized dishwasher. The Gota Dishwasher was designed by Ibsen Caldas. The small dishwasher is made from ABS polycarbonate and cleverly uses a water tank to efficiently use water.
Using a pre-wash, the Gota Dishwasher steams up the dishes and then saves the water for use later in subsequent steam cycles. The Gota Dishwasher can hold up to 6 plates and 6 glasses along with cutlery. However, even for small households, it doesn't seem to have enough space for saucepans and other cooking utensils.
I'm sure the novelty of such a design would quickly outweigh it's lack of practicality.
Source: GreenPacks