By Dan (EnviroGadget Writer) on February 25th, 2009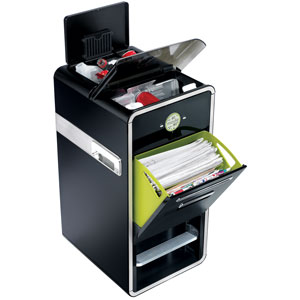 The All-in-One Home Recycling Centre by Mode is a home recycling system that sorts and stores all of your recyclable rubbish. The recycling centre features a patent-pending compaction system that will crush cans without using electricity, but also stores and sorts plastic, metal, glass and paper.
The 8 gallon chamber can hold up to 3 times as many recyclables compared to standard bins. The system is also fitted with a 5-gallon paper bin to collect your paper waste. The unit contains clear recyclable bin liners, allowing you to easily shift your waste ready for collection. And if you can never remember waste collection day, then the unit also has a convenient recycling day reminder function!
Source: RedFerret