By Dan (EnviroGadget Writer) on November 17th, 2008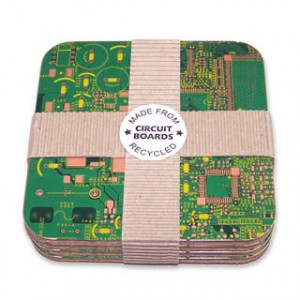 Sometimes an eco-friendly gadget doesn't need to do anything more than just look good. I've seen these recycled printed circuit board drinks coasters before, but I think they're really smart. PCBs are really difficult to recycle, as they contain many many chemicals, most of them toxic.
These boards are made from PCBs that have been never used. i.e. they were manufactured, but surplus to requirements. This means they never had any components or solder on them. The circuit boards are hand-finished to remove all sharp edges, and serve as very hard-wearing drinks coasters.
The coasters are sold in packs of 4, and measure 9cm by 9cm.