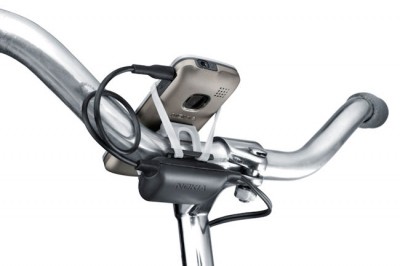 The Bicycle Charger Kit is an easy to install kit that allows you to turn your pedaling power into an eco- friendly method of charging your mobile. This kit allows you to charge you phone while you are on the go, or listen to music while cycling without fear of draining your phone's battery.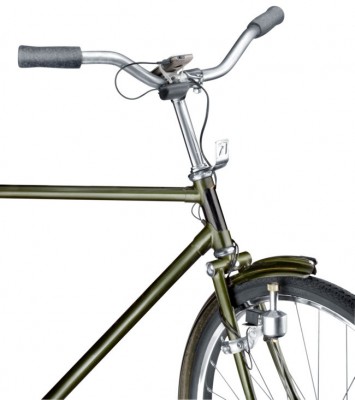 The Bicycle Charger Kit by Nokia comprises of 3 parts, a bottle (side wall) dynamo, a charger and a phone holder. The bottle dynamo requires placement onto the front of the bicycle, on the fork, using a mounting bracket that is provided. This component converts the kinetic energy of the wheel turning as you pedal into electrical energy that can be used to charge your phone.
The phone holder and charger require mounting onto the handle bars with a bracket that is included. The phone holder allows you to have your phone right in front of you as you cycle, great for listening to music on the go or to watch its charging progress. The holder protects the phone from any bumps and vibrations from the cycling due to its rubberized secure design, the holder also comes with a clear bag to help protect your phone from things such as dirt. The phone takes the electrical power it requires through a 2mm Nokia charging pin that is attached to the charger, this pin can be converted using a Nokia charger adapter (CA-146C) to allow it to charge microUSB charger devices, such as the Nokia N97.
The speed at which you pedal effects the amount of electricity produced to charge you phone. The faster you pedal the quicker your phone will charge. Exact charging times depend both on the speed at which you cycle and on the model of phone you are charging, Nokia predict that with only 20 minutes of cycling at roughly 10 km (6 miles) per hour you can provide enough charge to give a Nokia 1202 about 1 hour of talk time or 74 hours of standby time. Nokia recommend maintaining a speed of roughly 6km (4 miles) per hour for the charger to provide sufficiently effective charging. The charger will function between speeds of 6-50 km per hour.
Source: Nokia