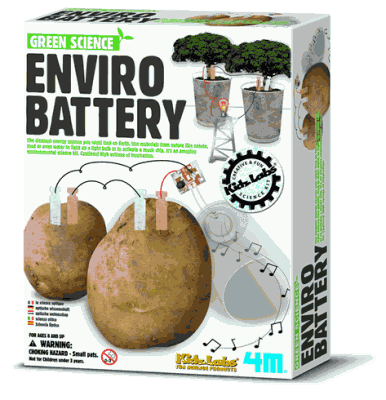 The Enviro Battery Kit contains all you need to create many different environmentally friendly batteries and other such eco-friendly items. The kit can help you turn many different household items into batteries allowing you to power items like a LED bulb or watch while explaining the science behind why these experiments work.
The Enviro Battery Educational Kit made by Green Science can be used as an educational tool to help teach children about environmentally friendly power sources, and the science behind creating electricity from chemical reactions. The kit includes the parts and full detailed instructions to allow you to create batteries from ordinary household items like fruit juices, vegetables, coins, and utensils. The kit also includes the parts to allow you to light an LED bulb, power a watch, and activate a music chip.
The Enviro Battery Kit includes 4 plates of both copper and zinc and connection wires for these, 2 specially designed bottle screw caps, a tower with a LED bulb on top, a sound chip, a LCD watch moment with protective cover and many other parts to help you create the experiments in the instructions. This educational kit is not suitable for children that are 3 or under due to the small parts, the kit is aimed for children aged 8 and up, though adult supervision is recommended.
The Enviro Battery Educational Kit is just $13.79 with free shipping.