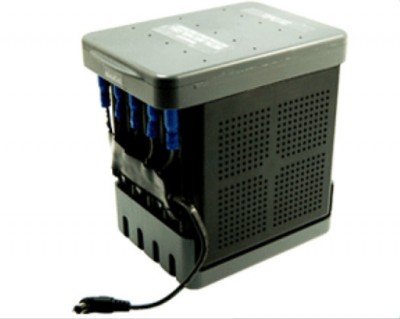 The MetalCell is a portable battery ready for use anywhere. The battery allows you to generate energy for electronics like flashlights or even laptops from saltwater. Or, if there is no salt water about, it can use urine.
The MetalCell is said to have been conceived in South Korea for use by the military. The battery works by exploiting the chemical properties of magnesium. The magnesium plates react with the sodium in the salt water (or urine) which creates low voltage current. This electrochemical reaction can then be used to charge up any equipment, particularly equipment where there's no immediate power source. Electronics are known for running out of power when it's most inconvenient and when there is no chance to recharge them. For the military, where the problem can be life threatening, this battery is meant to be an emergency back up that can run from materials a soldier has to hand (be that saltwater or urine!).
The MetalCell could be extremely useful for home use in areas where a sudden cut of power is likely. The battery can be stored away safely for years, as the internal workings will not degrade with age. Due to it's compact size, a number of batteries can be stored away in even small storage cupboards. As soon as you add saltwater or urine to the battery, it's ready for use. In theory, the battery can run a laptop for around 4 hours. The battery will require refills of saltwater or urine to keep charge going, though eventually the magnesium plates would also require replacement.
Source: Eco Friend