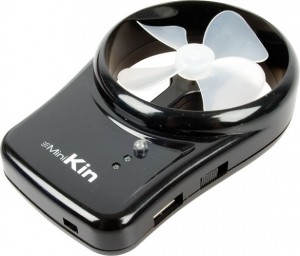 The [wpjap code="mini-kin-wind-charger"]Mini Kin Personal Wind Turbine Charger[/wpjap] is a mini wind turbine that contains a 1500mAh lithium polymer battery to charge up your various gadgets whilst being green at the same time. The MiniKin charger comes with a number of holders so that you can catch the wind while on your bike, boat or out running.
The charger is able to charge the vast majority of devices, such as mobile phones, the iPhone, iPods, MP3 chargers and any other device that accepts standard or mini USB plugs. In general, it has enough battery capacity to charge your mobile phone twice over. The handy accessories include a stand, an arm strap, bicycle clamp and a window sucker to allow you to best position the charger.
It's currently available for the bargain price of [wpjap code="mini-kin-wind-charger"]just £9.99 from Maplin[/wpjap], as its normal retail price is £39.99.
[wpjap code="mini-kin-wind-charger" button="1"] [/wpjap]