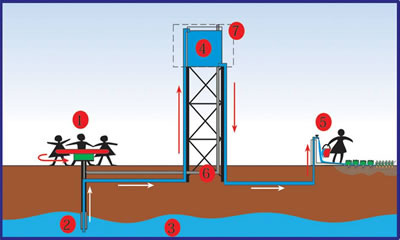 The Playpump is a playground merry-go-round that harnesses the limitless energy of children playing to pump clean water out of the ground. More than 1000 PlayPumps have been installed in schools in South Africa, Mozambique, Swaziland and Zambia. Access to clean water in Africa is a huge challenge, and the innovative PlayPumps achieves this nicely.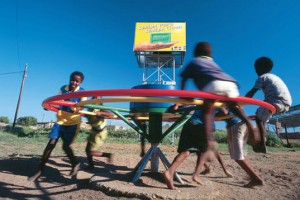 While children play on the merry-go-round, water is pumped up to 1400 litres of water per hour in to a 2500-litre water tank that stands 7 metres above the ground. The PlayPump is able to pump water from up to 100 metres deep too.
The water tank has been designed so that it can feature advertising on any of the 4 panels. The boards can be used to communicate health messages or for commercial advertising. The revenue generated from the advertising is used to fund maintenance for the pumps.
The pump promotes play and clean drinking water. It's a great initiative!
Source GizMag and PlayPumps.org