The Southwest Windpower Air 30 Residential Wind Turbine is an awesome gadget that converts the wind energy into an electric current. It can be used in your home as well as in outdoor cabins, farms etc. Unlike regular wind turbines, the rugged gadget doesn't make much noise and uses a microprocessor regulation technology that monitors the fan speed and optimizes the power output. The gadget can supply a maximum power of 400 watts at standard winds having a speed of 28mph and requires just a small breeze of 8mph for it to start. It'sdesigned to withstand powerful winds till a speed of 110mph.  The gadget comes in 3variants each supplying an output of 12, 24, and 48 Volts (DC).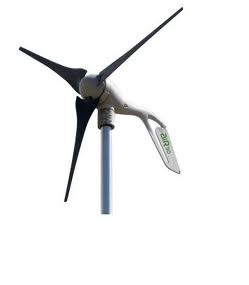 The Air 30 turbine comes with a built-in charge regulator that periodically checks the battery voltage and if it's full, the power generation is switched off. This saves the internal battery from being over charged and the power generation is again activated once the voltage falls below a threshold level.
The internal microprocessor also controls the speed of the blades and automatically slows them down in case of a charging wind. This prevents the circuit from getting damaged die to high speed winds and also reduces thenoise from the gadget.
A special marine paint and powder coated surface helps the gadget endure the toughest of weather conditions including storms and heavy rain.
The rotor with carbon fiber blades has a diameter of 46 inches and the mount is 1.5" schedule 40 pipe. The body is made from aircraft quality aluminum casts.
The Southwest Wind powerAir 30 Residential Wind Turbine comes with a 5 year warranty and is priced at $899.99. It's quite useful to have an alternate source of energy for your home or cabin.
http://www.earthtechproducts.com/p4000.html