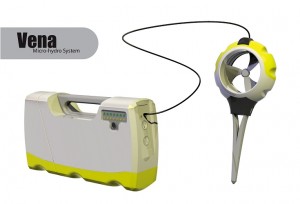 The Vena Mini-Hydro System is a portable generator kit that charges a power-pack from the flow of water. The turbine part of the generator is stuck into the river bed, and the flow of the river drives the turbine. A thick wire then leads back into the power pack to charge it up.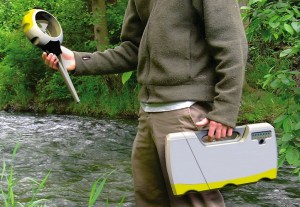 Designed by Daniel Hull, the Vena Mini-Hydro System is designed to be an eco-friendly generator pack for remote power requirements. Of course, you'll need to be near a river to make use of it.
Interestingly, there seems to be no protection against debris or perhaps any wildlife that might be floating in the river. I'd expect some kind of protective mesh over the blade to protect both wildlife and the turbine.
Source: EcoFriend