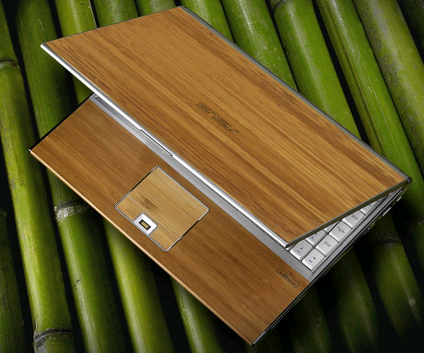 Bamboo is becoming an increasingly popular material for use in green gadgets, and the Asus Bamboo Series Laptops are no exceptions. However, the use of the sustainable bamboo is only one of the two significant features of this laptop.
The user-configurable Super Hybrid Engine feature allows users to extend the battery life by between 35% and 70% as compared to laptop computers with the same specifications and without this Eco friendly technology. What's impressive is that the increased battery life still results in an improved system performance increase of 23%! Essentially the system monitors the power requirements of the laptop components and dynamically adjusts the power levels in real time.
The ultra slim ASUS Bamboo Series laptop is available in two versions; a 12.1″ and 11.1″ model weight 1.57kg and 1.25kg respectively. Both are fitted with Intel Core2 Duo processors and are fitted with DDRII RAM. You might want to compare cheap laptops with these specs, as they seem no different to normal laptops… apart from the eco-aspects.
The ASUS Bamboo series were designed whilst following the strict RoHS and WEEE directives. ASUS probably sell the laptop with recycled and recyclable packaging. Everyone else is. I doubt that the new skin features in any of the Asus patents, as using bamboo as part of a computer case is also becoming increasingly common.
Source: iTechNews.net