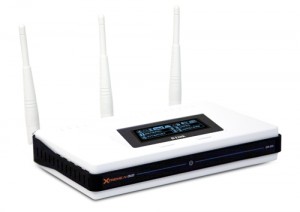 With the majority of western homes having internet access these days, the majority of them will have "always-on" broadband modem routers. Since these routers are on all day, every day, they are responsible for a surprising chunk of the energy costs. D-Link has announced that three of its new routers employ green ethernet technology that reduces power consumption by up to 40% compared with traditional routers.
The innovative, eco-friendly technology in the router automatically detects link status and network cable length and automatically adjusts it's power consumption accordingly. This is combined with a Wi-Fi scheduling feature that allows users to decide when the wireless aspect of the router is switched on. For example, the user can switch off the wireless aspect overnight when they are sleeping.
D-link is also providing green upgrades to existing routers to include some of this functionality without users needing to upgrade the whole router. D-link has also ensured that the new routers are RoHS (Restriction of Hazardous Substances) compliant and follow WEEE (Waste Electrical and Electronic Equipment) directives. This reduces the number of harmful materials used in the product as well as ensuring the device can easily be recycled when it reaches the end of its shelf-life.
D-Link's Green Ethernet technology is currently available in three of their router products. Namely the D-Link Xtreme N Gigabit Router (DIR-655), the D-Link Xtreme N Duo™ Media Router (DIR-855), and the D-Link Xtreme N Gaming Router (DGL-4500).
D-Link is clearly using their green initiatives as part of a marketing campaign, but if it helps the environment, why not?
Source: SlipperyBrick