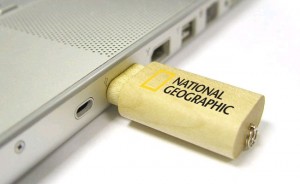 The Nature Series USB Flash drive is an attractive USB drive made from PEFC certified (sustainable) natural hardwood. The USB drive is machined from European Maple, and can be made into a number of capacities from 32MB to 8GB. The USB drive and the manufacturer FlashBay are both completely carbon neutral too.
The USB drives measure 58mm x 22mm x 11mm, weigh 11 grams, and are supported on Windows 2000/XP/2003/Vista, Mac OS X and above. The Nature Series USB Flash drive can be branded by either color printing or laser engraving. This means you can order USB drives branded with your company's message or logo. You might give them out with presentation material after a convergence. If you have an ethical business, a carbon neutral gadget would reinforce that message.
I must say, the Nature Series USB is the nicest looking USB drive I've seen in a while, let alone one that's also an Eco-friendly gadget too.