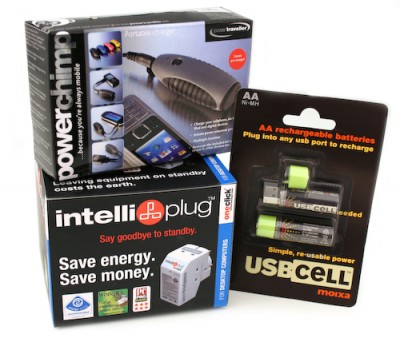 The Eco Gadget Starter Kit is a combination of three Eco gadgets that are designed to help you be more Eco-friendly with the least amount of fuss and hassle. The kit makes a good starting point for those who want to start using electronics in a more environmentally friendly way. The Eco Gadget Starter Kit includes a Power chimp, an Intelligent, and a pack of two AA USB Cell batteries.
Power Chimp – Quick Gadget Charger
The Power chimp allows you to charge a multitude of electronic devices and is powered by just a single AA battery. The device comes with connectors for many different mobile phones and can charge devices such as iPhones/iPods, MP3/MP4 players, PDAs, and many more. The Power chimp comes with two rechargeable batteries, when these are fully charged they can offer around an extra 4 hours of talk time to a mobile phone. The Powerchimp additionally has LED torch built into it. The small device allows you to provide your electronic devices with an energy top-up when on the go, without needing the bulk of many different charging plugs or even to be near mains electricity.
Intelliplug – Standby Saving Plug
The Intelliplug helps you to use, or rather not use, your computing equipment in a more Eco-friendly way. The plug is designed for use with PCs. You simply plug your computer into the main socket space then plug all the computer's electronic peripherals into the spaces around the outside of the plug. When you then turn your computer onto standby or turn it off, the plug will cut the power to the peripherals you plugged into it. This means that by turning your computer onto standby you can automatically turn the power off to your speakers, printer, scanner, or whatever electronics you wish to turn off while the computer is off.
USBCell batteries – USB-powered Rechargeable Batteries
The USBCell batteries allow you to charge AA batteries through a USB port without requiring a bulky charging station. The batteries plug directly into a USB port and even a few minutes of charging provides you with hours of battery use. These batteries can then be used to power any AA battery-powered device and can be used with Powerchimp. Though the batteries are designed to allow charging through USB ports they can also be recharged through a standard Ni-MH battery charger.
The Eco Gadget Starter Kit costs just £41.95 plus delivery.