Catching a sight of ingenious manufacturers' wits being wet and hustling with churning out of innovative gadgets is not something to surprise you being living in this era of science and technology. This is looking really interesting when first time getting out of manufacturing unit and when its launching images are turned to objects in reviews. There are more and more gadgets launched every week and more focus is about eco-friendly gadgets, which should save the energy the current energy consumption and preserve our natural environment.
To give you a glimpse of such latest innovations around you, a creative designer from London, Fernando Laposse from central Saint Martins has just amazed everybody with his new Lufa Kitchen series and bath products which have boasts of loofa qualities. Loofa eco-friendly will be highly attracted to the people and truly representing the designing skills of Fernando Laposse.
At sixes and sevens about what exactly makes this series stand apart? Well, the Mexican designer not only reveals an eye-catchy yet green route to everyday lifestyle products, but also grabs attention for exploring the qualities of a loofah or luffa. For those of you who are not really aware, loofah basically is a sub-tropical and tropical vine that embeds a powerful network of fibers or xylem – which was pretty amazingly brought into action whilst creating kitchen and bath products.
To provide a detailed gist, loofah is a quite popular edible fruit across Asia. However, it revolves more around the cucumber and pumpkin clan and tends to grow vertically attaching itself to trees. Although the plant leaves little or absolute no roots at the back, but it is generally yielded and cropped with very minimal impact on the soil. The sustainable fruit can, in fact, even be put under for extensive use and a dynamic array of uses.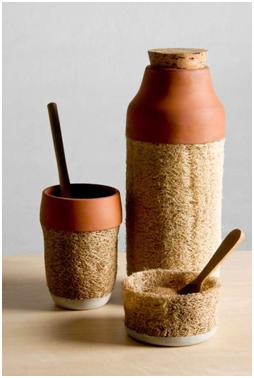 Probably having kept its wide usage possibilities into consideration, Laposse explored the hidden prospects of the fruit and rendered a whole new dimension to luffa. Since the sub-tropical and tropical vine integrates natural qualities such as translucency, lightness, heat insulation, and texture and shock absorption, the newly devised Loofah Series features all its natural qualities too.
As for its availability concerned, Fernando has yet to provide the details there. The new Lufa series is for those who have heart and care to demonstrate how we use our trolls and how change our lives to bring a perfect balance between our life and environment.