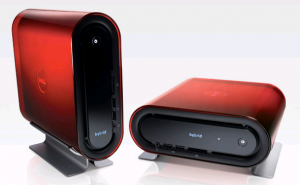 The much-publicized Dell Studio Hybrid is a stylish and compact desktop PC, easily usable for watching TV as well as the usual PC-type tasks. The Hybrid PCs come in a range of personalized colors, including bamboo skin. This Eco gadget is being touted as the most energy-efficient and greenest PC yet.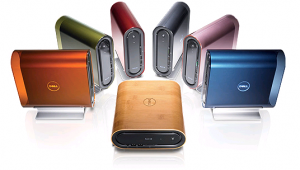 Since the PC is 80% smaller than conventional desktops, there are fewer raw materials involved in the design. Sure it's not quite as upgradable, but then you can buy a model with up to 4GB of RAM and a 320GB hard drive. So you won't want to upgrade for a while anyway. It also comes with gigabit Ethernet, WiFi using 802.11n, a Blu-ray disc reader in addition to a Dual Layer DVD+/-RW Drive. You also get a built-in 7-in-1 Media Reader, with a slot for the new high capacity and Hi-Speed Secure Digital (SD) cards.
The Dell Hybrid PC also sports a lower power requirement, using 70% less energy compared to other desktop computers, although Dell doesn't publish their actual power ratings. The power supply is an impressive 87% efficient meeting Energy Star 4.0 standards. I get the impression that the small size also allows the unit to cool down more efficiently compared to its bigger brothers, and therefore reducing wasted energy as heat.
The PC also comes in 95% recycled packaging (a common feature now) as well as a system recycling kit. I presume the latter is so that you can recycle the computer when you throw it out.