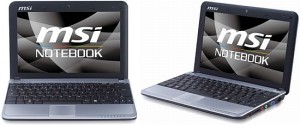 MSI has announced a new eco-friendly energy-efficient laptop that supposedly doesn't compromise on performance. Their new MSI U110 ECO Wind Netbook, which they claim runs for 9 hours on a single battery charge, does not degrade in performance.
The U110 Eco Wind laptop features the Intel Menlow Platform with Intel Atom Processor clocked at 1.60GHz. The netbook features 802.11b/g/n WiFi support, a memory card reader, stereo speakers and comes with a variety of disk storage capacities from 80GB to 160GB. It sounds as if the netbook does not have a solid-state drive, otherwise, MSI would be claiming that as a feature too.
In line with other netbooks, it features a 10″ LCD screen and a reasonable processor speed. MSI also claims it's the "world's most power-efficient netbook"… well everyone seems to be claiming they have the most eco-friendly or power-efficient laptop at the moment. Regardless of what the manufacturers claim, we'll decide for ourselves.
Source: Low Power PCs