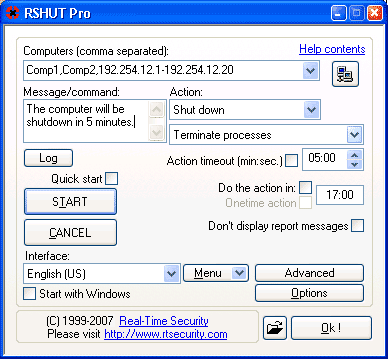 RShut is an advanced remote computer power management tool for Windows 95 through to Windows XP and Windows 2003 Server. The tool allows you to shut down or wake up any computer over a local network or the internet. This means your computer is only switched on when you need it to be on, saving you energy.
Exploiting Wake-On-LAN technology, RShut gives you considerable control over when your computers are switched on and off. You can even hibernate or suspend computers rather than powering a computer off. Suspend and hibernate modes help to reduce boot times and allowing you to continue working where you left off.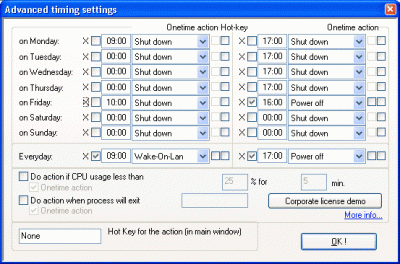 By using schedules, you can control when your computers are powered on or off. This is useful particularly if your computers are only performing tasks at certain times of the day. Some energy providers have cheap tariffs overnight, so it might be cheaper to run your computers at night when you're doing heavy processing.
When powering off a PC, you can choose what applications are terminated (or not terminated) to ensure that any programs already running on the system are closed safely. For security, the software uses password verification to ensure only you can control when the computers are powered up or down.
RShut is available from DownloadBuyer for around £8.68 GBP, where you can purchase and
download software
for your Windows or Mac OS X based computer. Of course, any electronic download software has no printed manuals or discs, meaning you're saving trees and emissions resulting from media production, printing, and delivery services.