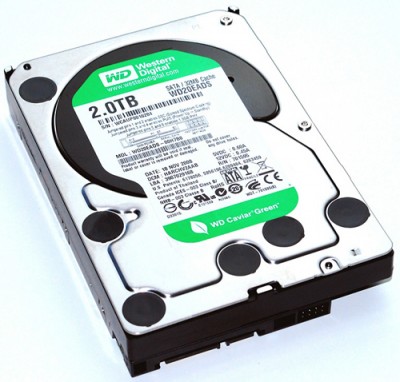 The Western Digital Caviar Green range of SATA hard drives provide energy efficient, low power memory storage for your computing needs. The hard drives are available in capacities up to 2 TB and can use up to 40% less energy than standard computing equivalents.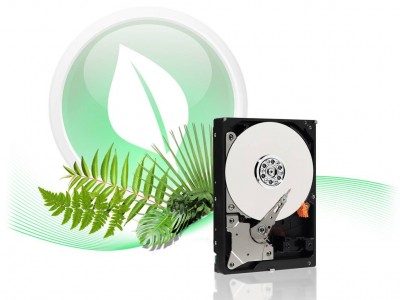 The Caviar Green SATA hard drives have been created by Western Digital. Their aim was to design a range of hard drives that are suitable for both business and home use that are cool, quiet, and eco-friendly. These hard drives allow you to have the size of disk storage you require even up to the high capacity of 2 TB without using the high amounts of electricity standard hard drives consume. Many operating systems (such as Windows Vista) and software can be very storage-intensive, causing many to find they do not have much room left on their hard drives for things such as photos, music, or home videos. By providing hard drives that are up to 2 TB in size, the Western Digital Caviar Green drives provide plenty of space for modern computer usage.
The Caviar Green hard drives are suitable for users who require quiet systems. The main noise from computer use is the fans keeping the systems running at the correct temperatures. These hard drives run at cooler temperatures than standard hard drives and as such require substantially less assisted cooling by fans helping them to run quietly. The hard drives use up to 40% less electricity than a standard hard drive due to a number of systems designed to help them run as efficiently as possible. The IntelliPower system helps to carefully balance the spin speed, transfer rate, and caching algorithms designed to deliver significant power savings while maintaining solid performance. The IntelliSeek system calculates the optimum seek speeds which help the hard drive work at a lower power consumption causing less noise and vibration. The hard drives also feature a low power spin-up which allows them to draw less electricity in a startup than standard drives which allow lower peak loads.
The Caviar Green hard drives each have a 32 MB cache and are available in capacities of 500 GB, 750 GB, 1 TB, 1.5 TB, and 2 TB. Western Digital believes the hard drives can save around 4-5 watts compared to standard hard drives, helping you to choose the size of hard drive you require with peace of mind that you are using a cooler, quieter hard drive that will consume less energy than a standard equivalent.
The Western Digital Caviar Green hard drives start at around $60 for a 1TB drive, and around $100 for a 2TB drive.