We have seen solar-powered outdoor gadgets that can serve multiple purposes such as cooking, charging your accessories, and also for listening to music. However, the FR360 is one gadget that can work both on solar power and can also be powered by a hand crank. In case you choose to, it can also be powered by 3 AAA batteries and also by an external adaptor. This unique gadget contains a built-in radio, access to the NOAA weather band, a powerful torch, a LED flasher, and also a USB phone charger. This ensures that you always stay connected and with a handy flashlight and access to your local radio while you're traveling. The feature to charge by a had crank is especially useful when you caught in bad weather or in case of power outages.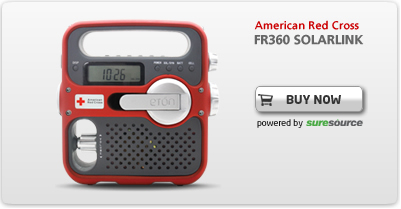 The Radio is supported by AM (520-1710 kHz) and FM(87-108 MHz). It can play all the local weather band channels along with weather alerts. The torch is powered by 4 LED's and also included is a flashing red LED light. A telescopic antenna helps you stay connected in all areas. You can charge your phones and other electronic accessories that are powered by a USB source by using the USB power output given by the device. Also included are an alarm clock and a headphone jack. The FR360 is your perfect travel accessory with a whole range of features that usually require multiple gadgets.
The device is recommended to be fully charged while you are on the move, and in case it doesn't recharge due to lack of solar light-you can use the crank to generate the power. It weighs 453 gms and has a dimension of 6.25"-6.5"-2.75".
The gadget is a special edition Red Cross product and $0.49 to $1.00 from each sale would be contributed to the American Red Cross society. You can buy the FR360 from the below link, or can also purchase it from Amazon and Best Buy.
Link: https://etoncorp.com/product_card/?p_ProductDbId=920493