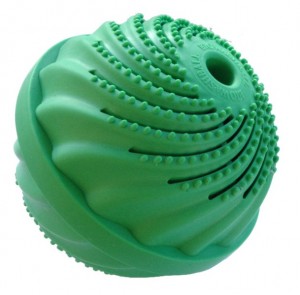 The BioWashBall is an eco-friendly method for washing your clothes without needing any washing detergent. The BioWashBall uses specially developed ceramic beads inside the ball that releases negative ions that weakens the adhesion of dirt to the fabric.
The BioWashBall also increases the pH level of the water in the washing machine, roughly equivalent to that of a standard soap powder. It's the combination of the high pH and the negative ions that helps release dirt from your clothing. The BioWashBall can be used for 3 years on the basis of one 9lb load of laundry per day. That's a big saving in money that would otherwise be spent on detergent. Every month, the BioWashBall is 'recharged' by placing it in bright sunlight for 2 hours.
The reason why it's also eco-friendly is because it doesn't contain any harsh chemicals that would otherwise pollute the environment. Using the BioWashBall is great for people who are allergic to most soap powders, since no soap powders are needed.