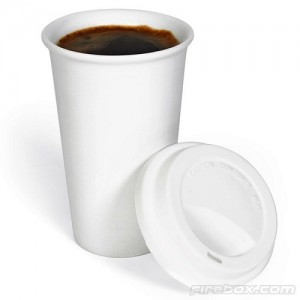 When rushing to work, many people take a trip to a trendy coffee shop to get their much-needed caffeine fix for the morning. However, the paper or polystyrene cups with plastic lids are not the ideal vessels for the eco-friendly to be drinking out of. For the most-part, neither the paper or the polystyrene are easily recyclable.
Why not help to save the planet, as well as your bank balance, by purchasing a ceramic "I Am Not a Paper Cup" cup? By making your own coffee and taking it to work in one of these, you are able to reuse the cup over and over again. Made from double-walled ceramic and featuring a coffee-shop-style lid with a spout (made from silicone) this cup keeps your drink warm and decreases the chances of you spilling your drink over the latest company reports or yourself. It is even microwave and dishwasher safe
To be honest, you could even fill this cup with any number of other liquids. Just don't let the coffee-addicts see you fill it with tea! The eco-friendly reusable ceramic coffee cup is available for around £10 to 13, with the cheapest available price listed below.
This is a guest post by Darren Singleton, who writes about the latest gifts and gadgets over at Gifts4Men. If you are looking for gift ideas for a man in your life, take a look through the Gifts for Men website.