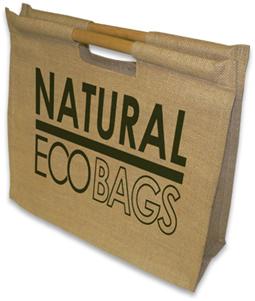 Although the use of plastic bags has solved our most of shopping stuff to handle, there is great issue concerned with use of plastic shopping bags. However to stop the increasing pollution level and searching for some best energy and environment saving alternatives, jute bags are getting popularity to replace the bags which are unable to be used again However, a reusable green shopping bag is made from a thick rubber, woven synthetic fiber or canvas, which makes this bag more durable as compared to disposable shopping bags.
Also there are multiple uses of reusable shopping bags as compared to disposable bag, which is being and not even can carry more weight. In many of the apparel shops and supermarkets, the reusable shopping bags are available in the form of carrier bags. Green shopping bag isa type of simple shopping bag which can easily be reused many times as you go. As compared to paper or plastic bags which are used, this bag can be used several times and can be right solution to save our extra costs.
A reusable shopping bag is rightly the one which can be named as green shopping bag and it needs more energy to produce it as compared to a disposable or temporary use shopping bag. For examples, a single reusable bag requires 28 percent more energy than a disposable bag or plastic bags used for shopping nowadays. According to a report which was published by UK environmental agency, it was found that a reusable green shopping bag can be used approximately 171 times more than a disposable plastic bag and can contribute great to go green environment. Green shopping bags although need more cost to develop or manufacturing for hard use. Same study also found that cotton bags are used average 51 times before they are disposed. A reusable shopping bag is named as bag for life Disposable items have many drawbacks also
The use of Green shopping bags in United States
Green shopping bags are not just new stuff; they are being used in United States from 1977 when plastic shopping bags were used to taking the grocery item. These bags were later on displaced with paper bags. But during the early 1990s, government started the taxes on use of plastic bags and to regulate their use. But supermarkets discouraged the customers from use of disposable shopping bag due to pollution and encouraged them to use alternative green shopping bags which could be reused many times. Also supermarkets telling the people about how disposable shopping bags are damaging the environment and they needed to be replaced with green shopping bags. Due to these efforts now use of reusable green shopping bags is increasing greatly.
The shape and design of current green bags for shopping is much different from shopping bags which were used before. Now apparel industry has encouraged the use of green shopping bags as sustainable fashion bags. Also supermarkets have started the use of reusable shopping bags due to low cost incurred on them. Most of the polypropylene bags are manufactured in the range of 0.10 to 0.25 dollars range and are sold in range of 0.99 to 3 dollars approximately in United States.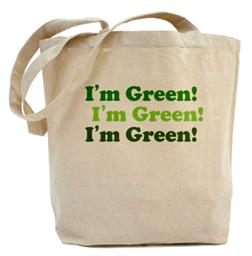 Also when stores are getting diminishing returns because of saturated markets, they are expected at low price and will become new single bag. Also calico and string shopping bags are available for sale in some of the supermarkets in many states of America. Such bags are usually sold with their promotional campaign of reducing the pollution in our atmosphere and with environmental issues which are put forward.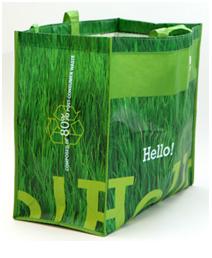 Often the greens shopping bags which are sold in supermarkets have designs which resemble with the nature, showing the printed birds, trees, blue sky or forests in order to clearly show the environmental issues and let the people aware about how such bags will contribute positively to our environment. In many supermarkets across the United States, a points system has been started in which customers who bring their own shopping bags are given extra points or discount coupons to enjoy the extra sales at low prices. This is also a good strategy to collect points and good way to get gifts, coupons and discounts.
If customers bring reusable bags with themselves, retailers like Target and Whole Foods Market give them cash discount. It is similar to the other eco-green efforts which have been started in United States, although they were adopted by United Kingdom and whole Europe before. According to some statistical figures, more than 2.88 billion reusable bags have been exported to United States after 1999 till this year. These green bags were sent under resale and give away HTC coding as per told by US international trade commission. But there is no data available and expected to be millions of bags which were imported by other Harmonized Tariff codes in United States, or those reusable green energy bags which were developed in United States and being used there. According to an annual imports report, about 1.6 billion bags were imported from China from 2004-08 and 130 million green shopping bags were imported till 2008.