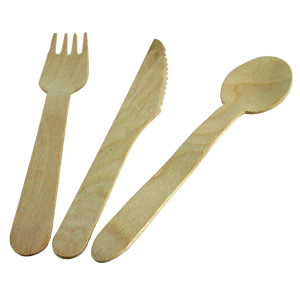 These Birchwood Disposable Cutlery utensils are a great eco-friendly alternative to the standard disposable plastic cutlery often used at outdoor events. The wooden cutlery is made from a sustainable material and biodegrades once disposed of.
Birchwood Disposable Cutlery is usually more effective for use than the standard plastic disposable cutlery, for instance, the knife of this wooden cutlery has an effective serrated edge which aids cutting and will not easily snap as plastic counterparts often will. This wooden disposable cutlery will decompose when disposed of, rotting down well in a landfill, or even in a compost bin. The wood for the cutlery is sourced from sustainable supplies, it is harvested from replanted forests. Birchwood Disposable Cutlery offers disposable cutlery that is more effective, pleasant to look at and is environmentally friendly.
These Birchwood Disposable Cutlery packs are just £3.99 for a pack of 100. These are perfect utensils for BBQs, fayres, festivals, fetes and other outdoor events where there may be considerable litter. At least if little picking results in a few items not being retrieved, the cutlery will biodegrade naturally.