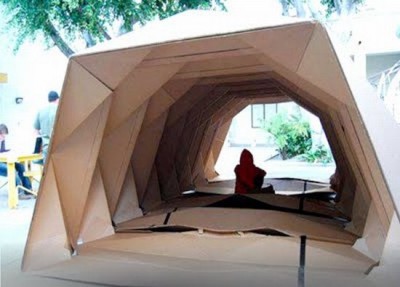 Cardborigami is a quick and easy way to construct temporary housing to shelter those who have been left homeless, especially after a calamity of some sort. The sustainable cardboard structure is small enough to be easily portable, is waterproof and flame resistant, and can be constructed at anytime anywhere.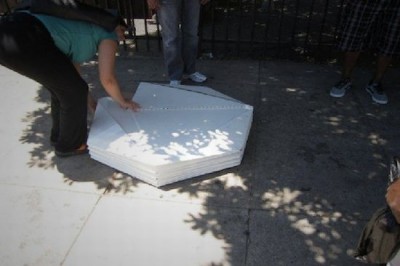 Cardborigami has been designed by Tine Hovsepian during her 4th year of studies in Architecture. The device uses standard corrugated cardboard to form its structure due to it being a sustainable resource that is lightweight and has a natural ability to insulate. The cardboard is specially treated to allow it to be waterproof and flame resistant, this allows it to be of use to both urban homeless and to those in immediate need of shelter due to a disaster of some form.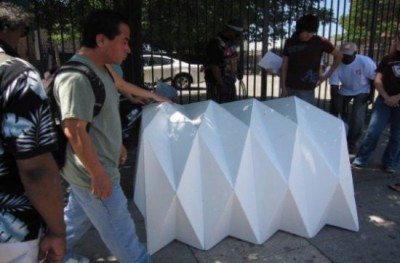 The cardboard is scored to allow it to be formed into the shelter. The pattern of the scoring has been designed to allow the shelter to fold into a small package that can be carried easily by a single person but can be unfolded to create a stable shelter large enough to provide suitable temporary housing. The name Cardborigami reveals the inspiration that is behind the design of the shelter. The Japanese art of paper folding, origami, is reflected in the ability to fold the device up into a small package that can be transported with ease and be able to unfold it into a large protective shelter.
This simple cardboard structure can make a large difference to many lives, from those living rough on the streets to those suffering from a calamity. The device provides shelters that can be transported into areas quickly and effectively helping to save fuel costs and allowing it to reach those in need rapidly. Created from a sustainable material Cardborigami helps humanity while aiming to cause as little environmental impact as possible.
Source: The Design Blog