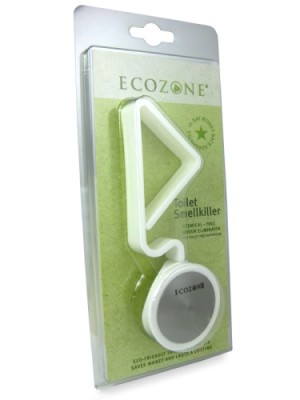 The  Toilet Smell Killer is a great little device for keeping your toilet fresh without the need to replace it or refill it. This odour neutralizer works without the need for any chemicals, and does not produce any artificial smells, it simply stops your toilet from being smelly in an eco-friendly way.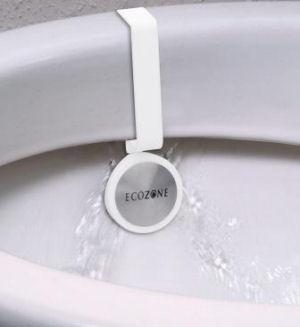 The Toilet Smell Killer by Ecozone is made in Germany, it neutralises odours using its high grade stainless steel disk. When this disk comes into contact with water and air it naturally neutralises any odours about. It is essential then that the device is place where the water will run over it when you flush. The smell killer can last a lifetime, there is no need to buy a new one regularly, nor does it require refills. This helps to reduce the amount of rubbish that builds up over the years associated with keeping toilets smelling fresh, for example there is no packaging each month, nor any processing of new chemicals.
The Toilet Smell Killer works in a natural way without using any chemicals. This is great news for any who are sick of the often sickening smells often used to mask the bad odours, or those who are sensitive to them such as asthmatics. The device is simple to clean when it is required by simply removing it and cleaning it with anti-bacterial washing up liquid or similar. The smell killer is a great way to keep your toilet fresh without any worries over chemicals, or over the amount of packaging being disposed of regularly. Though it may not produce any citrus scents or smell pine fresh you will have a stink free toilet that is appealing to all in a natural and eco-friendly way.