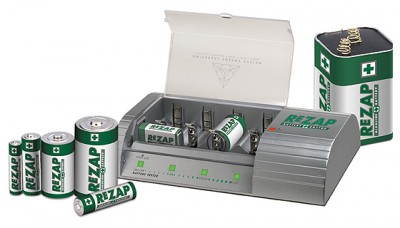 The ReZAP Battery Engineer revolutionizes battery charging as we know it. The charger allows you to charge rechargeable batteries and non-rechargeable ones, even at the same time! This technology signifies an end to disposable batteries only surviving one use.
The ReZAP Battery Engineer can be used to recharge all the common domestic battery types, Alkaline, RAM (Rechargeable Alkaline Manganese), Titanium, NiCd (Nickel Cadmium) and NiMH (Nickel Metal Hydride). The sophisticated charger has a microprocessor control within it, this allows the charger to sense what each battery is in each bay, and supply it with its optimum charging of electricity. This means that the charger can charge any mix of batteries at a time, both of type and of size. It can be used to charge a wide range of sizes and shapes of battery, for example it can charge AA, AAA, AAAA, C, D, N, 9V, 6V and many others.
The charger can charge a mix of battery types and shapes at once providing each one with exactly what it needs. The makers believe that the charger can even benefit normal rechargeable batteries (NiCd and NiMH) because of how each battery is individually custom charged. They believe that it can increase the amount of charges the batteries can take, allowing NiCd to charge up to 1000 times compared to about 800 times using standard chargers, and allowing NiMH up to 600 times compared to about 500 times using standard chargers.
The charger allows non rechargeable batteries to be charged up to 15 times, depending on what type and make they are. This helps to prolong the life of these batteries, helping to reduce the numbers of them needing disposal. Due to the use of the microprocessor, you do not need to know what battery type you have as there is no need to select a switch for each one – everything happens automatically.
The ReZap Battery Engineer also comes with 4 AA to D-sized battery converters, these plastic covers allow you to use AA batteries like D batteries, to help reduce the number of different types of batteries you need to purchase. The charger allows you to prolong the life of all batteries, be able to charge a mix of types and sizes together, and helps to make recharging batteries a simple process.
The ReZap Battery Engineer costs just $49.99 with free shipping.