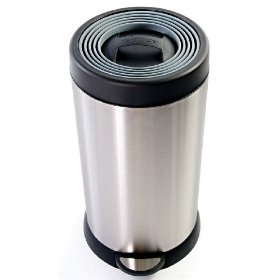 The Compactor Trash Can (Smash Can) by Reduce is a great way to compact your household waste cleanly and effectively. By compacting garbage down you will save on bin bags and be able to fit a lot more into your bins.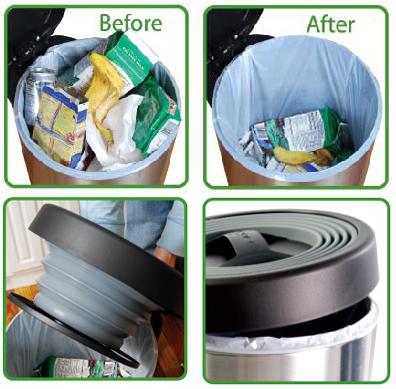 The Compactor Trash Can has a specially designed lid that you push down on once the trash can (or bin) is full. This compacts the garbage within the can without you having to touch it at all, as it is all safely sealed away, nor will you get a gust of garbage gas in your face. This means any harmful germs or bacteria are kept away from you while your trash is condensed allowing you to use half as many bin bags as before, helping to reduce costs to you and to reduce the amount of plastic bags in landfills.
The can is pedal operated with a soft closing lid which means no annoying loud crash when the lid goes down and no worries about small fingers getting caught. The can has a 40 liter (10.5 gallon) capacity and takes standard bin bags, there is no need to buy heavy duty ones unless you wish to.
My one concern for this from an environmental point is the impression that it reduces garbage going to landfill, it does not, it certainly reduces the amount of bags, but the actual amount of garbage is unchanged. Nor does it reduce the amount of space taken in landfill as the garbage is compressed first when placed into a garbage truck and often again before reaching landfill. It does help reduce the amount of plastic bags in landfills, helps to keep your rubbish safely away from you when compacting it, is a safer bin around small children, and by using less bags it can help quicken refuse collection.
The Self Powered Trash Compactor costs $168.27 with free delivery.