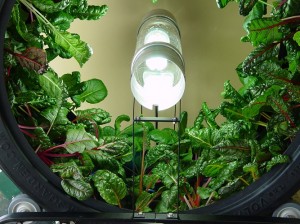 The Volksgarden Rotating Garden is a circular hydroponics system that allows you to grow up to 80 plants in less than 9 square feet! The Volksgarden Rotating Garden rotates completely every 45 minutes, making the most efficient use of light, water and nutrients. The rotating garden is perfect if you don't have a great deal of space, but at a diameter of 48″, and being 76″ tall by 30″ wide, you're going to need some space for it!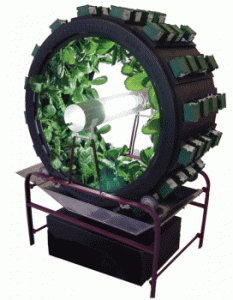 The Volksgarden wheel is made from food-grade molded plastic, with the structural components being made of power-coated steel. Each compartment is designed to hold 3 inches of nutrient medium. Nutrients and water are added to the lower water tray, where all plants receive nutrients as they pass through the tray.
The aspect where the rotating garden is not quite so eco-friendly is where it needs a high power lamp (400W, 600W or 1000W), although there are some florescent lamps you could use instead. Just a snip at $1995 USD, but you do get a 10% if you buy two!
Source: Omega Garden