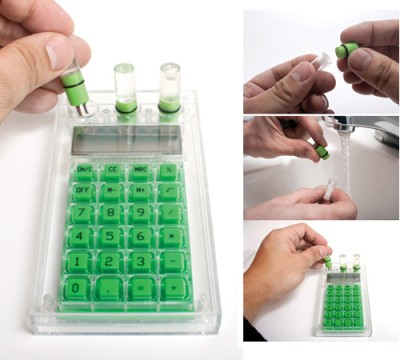 This Hydro Powered Calculator is an innovative product designed to provide you with a calculator that is powered in an eco-friendly way. Appealing to anybody into both gadgets and the environment, this calculator is ready to go whenever you need it, just insert water!
The Hydro Powered Calculator is powered by water that is placed into three small capsules that fit into the top of the calculator. Each of these capsules acts as a small battery for the calculator, each having two electrodes that are made out of alloys that react with the water. This chemical reaction creates the electricity the calculator requires to work. Though there are no worries about batteries running out, the water within the capsules will require topping up from time to time as it evaporates.
The calculator is encased in clear plastic with bright green buttons. This clear case allows you to see through to see the inner parts of the calculator like the system board, something that is bound to appeal to many out there into technology. The calculator measures 5 cm x 13.3 cm x 7.6 cm(2 in x 5.25 in x 3 in) and can be stored in any bag or drawer without worries over losing charge that can be experienced with solar calculators. This calculator should allow you to never be without calculating power, as it is not often you will not be able to top up its batteries.
The Hydro Powered Calculator costs just £13.00 plus £4.95 shipping.