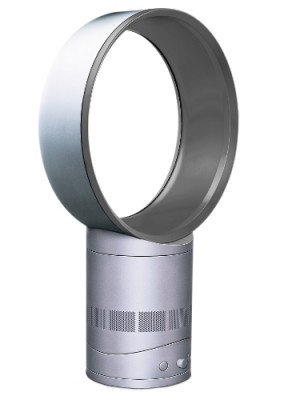 The Dyson Air Multiplier is an innovative fan that uses a bladeless design to produce a smooth current of cooling air. The Air Multiplier can produce a cool refreshing breeze in a safer, healthier, and more energy efficient way than a standard fan could.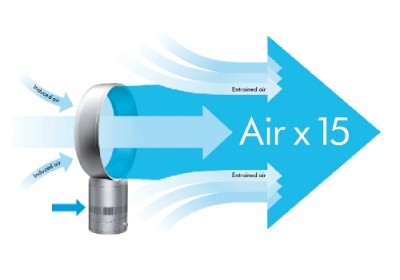 The Dyson Air Multiplier draws in air and amplifies it, to produce a continuous stream of air. The sleek and elegant fan draws in air through the bottom of the unit using an energy efficient brushless motor. The 12 in (30.5 cm) desk fan expels the air it has drawn in through a 1.3 mm wide slot. This process creates a cone of amplified, accelerated air and the fan can provide you with up to 119 gallons of this amplified air every second.
The Air Multiplier has been designed to naturally draw in air from the surrounding area. It achieves this through two processes, it draws in air from behind the the fan through a process known as inducement while also drawing in air from around the fan in a process known as entrapment. These processes help to amplify the air up to 15x, producing a steady stream of cooled air. Because it draws in a substantial amount of air in a natural way, the fan requires less energy to provide the stream of air than many conventional fans, making it energy efficient.
Unlike traditional fans, the Air Multiplier has a 'dimmer' switch by which you control the strength of the fan. This allows you to fine tune the amount of breeze created rather than having to select one of a limited range of strength options. This can help save energy as you can choose the perfect amount of breeze rather than putting up with a higher setting than is required.
Due to the lack of fan blades in the round of the fan, the Air Multiplier is both easy to clean and safe. There can be no accidents with fingers, nothing can get caught on blades or wrapped around them. Because the fan attracts less dust than conventional fans and is easier to clean it is a healthier, cleaner option for any home or workplace. The Air Multiplier allows you to cool your room in an energy efficient, clean and safe manner, allowing you to enjoy the breeze without worry.
The Dyson Air Multiplier is a little more expensive than standard fans at £210.00 (with free delivery), but it's certainly going to be a conversion starter when you have guests at your home or office.