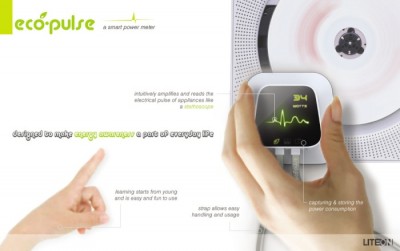 The Eco-pulse is an novel way of keeping track of your electrical usage. The device acts in a similar way to a doctors stethoscope, visualizing the electromagnetic fields of a device into a pulse informing you of the power usage of the item you are 'listening' to. The device is a fun way to see the energy usage of each electrical device, even on standby to help make you and your family more energy aware.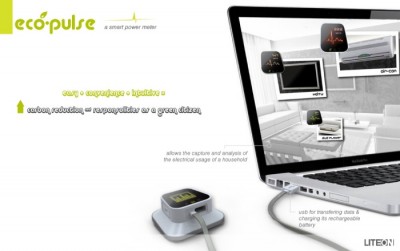 The Eco-pulse has been designed by Wan Xuan Lim and Tang Xueling Jane to provide you with the tools to go searching for hidden power usage. The device has been created to help educate both young and old to the amount of energy that is wasted by standby modes, due to their 'vampire drain', it is also an effective way to show just how much energy certain electrical devices use.
Being aware of your energy usage helps you be more proactive in reducing it. Seeing certain devices using a high amount of energy can cause you to purchase more energy efficient models, by seeing the drain of devices left on or on standby you can cultivate better habits at turning them fully off. These simple changes, inspired from awareness of your usage ,can save on your electrical costs and reduce your carbon footprint.
The Eco-pulse can store the data collected and upload it to your computer via its USB cable, it can also use this to charge its internal battery. The device is a novel and fun way to start to get to grips with your home or even office energy use. Easy and quick to use it gets to work straight away allowing you to search out power hungry devices and figure out the best changes for your household.
Source: iGreenSpot