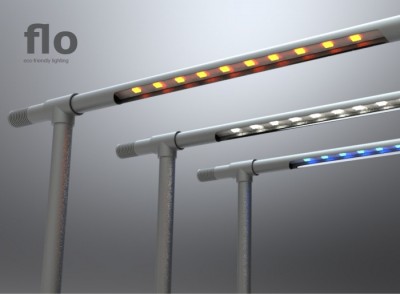 Flo is a desk light concept using the form and function of sink taps as an integral influence on its design. By operating the taps a user can control the light level, giving a range of lighting from a soft warm light to a cool bright light.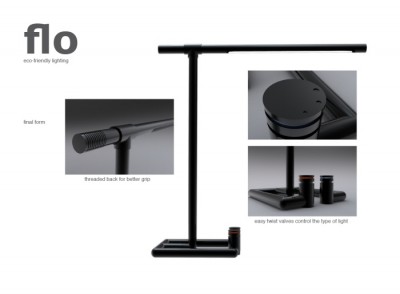 The Flo lighting concept has been designed by Michael Angelini to help users be more aware of the electricity they are using. The taps used to control lighting level have also been used to help a user be subtly reminded that electricity, like water, is something we should all be actively working to conserve. The desk lamp allows you to operate the lighting level from the tap switches, the light can be used for different lighting levels depending on what the user requires. It would seem that using a warmer, lower light level would use less electricity than using the cool, brighter light levels. This would allow you to have a desk lamp that is suitable for all occasions and, by selecting lower light levels when acceptable, can help reduce your energy usage.
The Flo desk light would be constructed in the majority from recycled materials, helping the light to be as eco-friendly as possible. By using LEDs (Light Emitting Diode) as the light source, the desk light will use less electricity than one operating an incandescent bulb, while having many benefits over low energy light bulbs like CFLs (Compact Florescent Light/lamp). The LEDs will last longer than both incandescent and CFL bulbs and LEDs, unlike CFL bulbs, contain no mercury.
The Flo desk light concept would offer effective low energy lighting that can provide a range of lighting levels to ensure its suitability for any situation. The light would allow you to be more conscious of your electricity usage and provide you with means to reduce your use when possible.
Source: Cloroflot – Michael Angelini