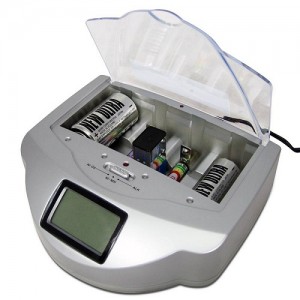 It's not unusual these days to get through loads of batteries, since we seem to have an increasing number of gadgets. The Deluxe Battery Wizard can help you save money on the batteries you buy, simply by charging up non-rechargeable batteries (i.e. standard alkaline batteries) up to 10 more times! You can charge up to 4 batteries at a time, and you can recharge all of the major battery types, namely AAA, AA, C, D, and 9v PP3 batteries.
You can recharge ordinary alkaline batteries and rechargeable Ni-Cad or Ni-Mh batteries with the battery wizard. The status of each battery is shown on the LCD display on the charger unit. The unit is powered from the 240V mains and will automatically shut off once the batteries have been charged in order to save energy. The battery wizard is a great way to squeeze a little extra life out of your batteries before you recycle them.
The Deluxe Battery Wizard is the battery charger non-rechargeable batteries since the built-in micro-controller ensures that the batteries get topped up as much as possible without damaging them.
The Deluxe Battery Wizard is available for £24.95 plus delivery.
[ecu size=" small"]29583[/ecu]