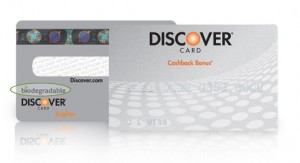 The first green credit card has been announced! Offered by Discover, it is the industry's first biodegradable plastic credit card. The biodegradable PVC is designed when exposed to soil and moisture.
According to the report, it will completely biodegrade within 5 years, which is about the average time before a card is replaced in the UK. I wonder what happens if the card gets wet? Does it melt?
However, there is one small problem. In the UK, credit cards now employ a microchip (hence the 'chip' in 'chip-and-pin') to provide additional security. Since the chip is likely to contain harmful materials, I can't see biodegradable credit cards in the UK any time soon.
Source: Nature Repurposed