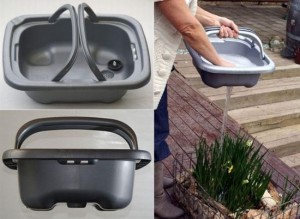 The Hughie Sink is a creative idea that makes it easier to reuse wastewater in the kitchen. It's essentially a large sink bowl that features a carrying handle and a sinkhole. When you've finished using your water for washing the dishes or cleaning your vegetables, you wander outside with the bowl and empty it onto your plants, lawn, or into a grey water tank.
Using the bowl is a much easier solution than getting your pipes re-plumbed for handling greywater automatically. However, individuals with limited mobility might struggle to lift the bowl and carry it into the garden. Re-using water in this way means you could save money on your water bills if you have a water meter.
Rather than pay for one of these specific bowls, you could pay about $5 or £3 for a simple plastic bowl at any decent hardware store.
Source: The Design Blog