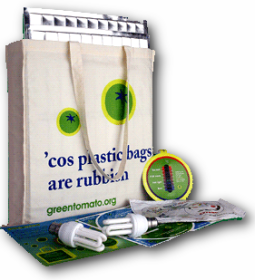 If you're having trouble getting started to living a greener life, then the Green Tomato Kit is an inexpensive starter pack ideal for giving you a head start. The kit contains a range of green gadgets, energy-saving radiator reflectors, a toilet system water-saving pack, a reusable shopping bag, energy-saving light bulbs, and some useful eco-reminding stickers. Even the packaging is compostable!
So what's in the kit? With the drive away from using plastic bags, the cotton-based bag will certainly last longer than most supermarket plastic bags, even the re-usable ones. The energy-saving light bulbs are available everywhere these days, but getting people to convert to using them is tough. Did you know that for the same energy required for two 100W filament light bulbs, you can light a whole house with energy-saving lightbulbs (typically rated at 8W, 11W, or 15W).
The radiator reflectors will dramatically increase the amount of heat reflected back into the room rather than being radiated into your walls. The thermometer will help you to determine if you really need the heating on or not. The water-saving bag will reduce the amount of water needed to flush by 1 liter each time. And the stickers are reminders to switch appliances off as well as reminders for "No junk mail" and "Don't forget your bag".
If you know someone who seems reluctant to save energy and water, then this kit is ideal. For £8 (around $16) you can help someone save hundreds of pounds on their bills whilst doing their bit for the environment at the same time!
Source: Green Tomato