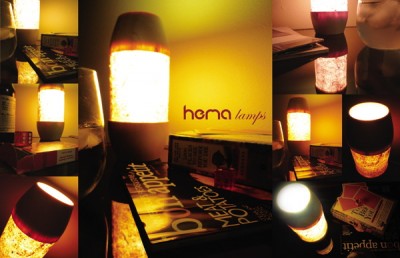 The Hema Lamp is a beautifully designed lamp concept. The lamp is formed from materials that are either reclaimed or are sustainably produced. By using reclaimed wood and glass and using a mixture containing items such as corn husks, cotton, and flowers the lamp gives off a pleasing glow and scent.
The Hema Lamp Concept has been created by designer Matthew Wegner to provide a lamp that is eco-friendly to produce and has a minimal impact on the environment once it has finished its purposeful life. The lamp top and bottom are formed from reclaimed wood. The wood has any nails within it removed and is formed into workable pieces by laminating pieces together with water-soluble glue. The wood is then turned on a lathe to form the smooth shape and cut in half, the pieces are drilled for holes top and bottom, and the bottom half is then wired. Having the top and bottom of the lamp as symmetrical pieces help keep manufacturing to a minimum.
The central piece of the lamp is formed by using a mixture of corn husks, cotton, and flowers. These are blended together without any glue to form a paper-like paste which is applied to the outside of a reused glass bottle which has had its top and bottom removed to produce a perfect glass cylinder. This once dry forms the core of each lamp and can be interchanged. Fragrance can be added to the mix, and by using different flowers different aromas can be produced which fill the room when the lamp is lit. The packaging for the lamp is suggested as being a cardboard tube that has all the instructions, warnings, and ingredients printed onto it and is able to be recycled.
The Hema Lamp Concept provides a useful and decorative lamp that can fill your room with a worm glow and a sweet scent. By using sustainable and reclaimed materials, the lamp would make an eco-friendly addition to any room, just be sure to use an energy-saving light bulb!
Source: iGreenSpot