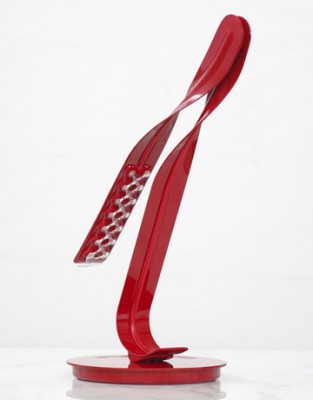 The Leaf LED Light is a stylish modern desk lamp that uses LEDs to produce a bright white light while using very little energy. The lamp is fully adjustable allowing you to be able to use it for a variety of tasks.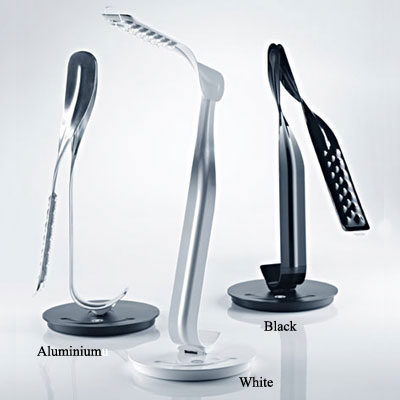 The Leaf LED Light by Herman Miller has been created to provide stylish modern lighting that is environmentally friendly. The light uses 20 LEDs to produce its illumination, it has 10 blue LEDs that provide a cool intensive light, and 10 yellow LEDs that help to give the light a warm feeling. The light can be adjusted to provide you with any combination of these, also allowing you to select the strength of the light, this is all achieved through the touch sensitive pad located on the base of the lamp. Due to the use of LEDs the lamp will never be very hot to the touch, adding extra safety to your home or office.
The Leaf LED Light can be adjusted to light any angle you wish, the lower blade swivels 180 degrees and pivots 27.5 degrees forward, 23 degrees backward, while the upper blade pivots 210 degrees. The lamp is thought to use only 40% of the electricity a standard lamp bulb would as it draws only 12 watts and the LEDs will last around 100x longer than a standard bulb. The lamp furthers its eco credentials with its composition, it is crafted from 37% recycled materials and 95% of the lamp can be recycled when it has reached the end of its useful life.
The Leaf LED Light is available in 5 colours: black, polished aluminium, red, nickel, and white and each lamp measures 53.5 cm x 22 cm (21 in x 8.7 in). The lamp is an aesthetically pleasing object to have, be it in the home or at work. The lamps ability to adjust allows you many lighting options, and helps to ensure it will always provide the right lighting for the job. With its use of recycled materials and its low energy usage its a stylish option for those who wish to be eco-friendly.