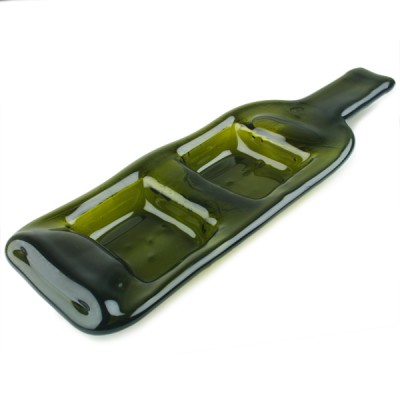 The Olive and Pips Bottle Dish is a beautiful green glass bottle that has been handcrafted into a dish with two sections. The dish can be used for a number of things, from olives and their pips as the name suggests, to any form of party snack, or even tealights.
The Olive and Pips Bottle Dish is crafted from a recycled green glass bottle. Because each one is created by hand each dish is unique with its own individual finish. The dish is formed to have recesses to allow you to use it for serving snacks, to have condiments in, or to display decorative tealights in.
The Olive and Pips Bottle Dish is a great way to show off your green credentials while being a stylish, useful object. The green glass of the dish helps it to have some weight to prevent it from being easily knocked over while being light enough to be easily carried. The dish measures 32 cm x 11 cm (12.6 in x 4.3 in) and has a depth of 2.5 cm (1 in).
The Olive and Pips Bottle Dish requires less processing than totally melting down glass would, while helping to re-purpose the material in a useful and unique way. The dish is great for use with snacks or as a decorative dish in any home. This unusual dish is yours for just £19.99.