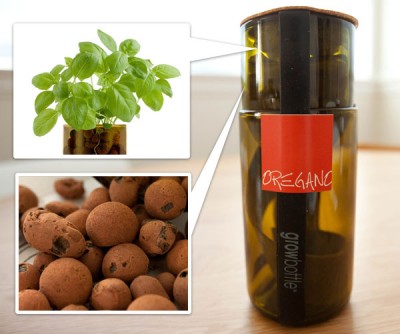 These Organic Herb Grow Bottles are a great way to grow your own organic herbs at home. The kit uses a recycled wine bottle, cut in half to create the pot for the herbs, and includes all the bits and pieces required to grow healthy happy plants that will easily fit on a windowsill.
The Organic Herb Grow Bottles allow you to have access to fresh organic herbs when you want them. We all know growing your own is better for the environment, but often pots are too big for windows, it can be a lot of hassle to grow even simple herb plants. The kit takes the hassle away. The cut in half wine bottle is used to form both the top to hold the actual plant in and a bottom as a water reservoir, letting the plant go without watering longer.
The herb kit uses a wool felt to act as a wick, drawing the water and nutrients (included) up to the plant. Clay pebbles are used to help secure the plant and hold moisture, along with vermiculite to help the seeds to sprout as it will hold moisture better for young seedlings. Each kit contains a few organic seeds of the type of herb you wanted, there are many herbs available, basil, chives, mint, oregano, and parsley.  Once done with your chosen herb plant, the kit can be cleaned out, the clay pebbles and bottle rinsed and reused, replacement kits are available supplying fresh vermiculite, wool felt wick, nutrients and of course fresh seeds.
Helping people to grow their own herbs is a worthy green cause, by making use of a wine bottle and re-purposing it as a pot the kit further enhances its green credentials. The herb bottle has a beautiful look that will fit in any home, allowing you to enjoy looking at your plant as well as eating it.
Source: iGreenSpot