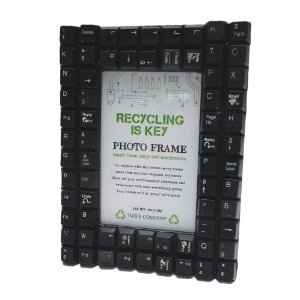 This Recycled Keyboard Photo Frame lets you display your pictures in style. Constructed out of keyboard keys the frame should appeal to anyone who is interested in technology, computing and/or recycling.
The Recycled Keyboard Frame has been created by Two's Company. The frame uses salvaged keyboard keys to construct decorative framing, each frame is unique using different keys placed in a random order to create a fun contemporary design. The central cut out of the frame has been designed to take photos that are 4 in by 6 in. The frame is backed by MDF (medium density fiberboard).
The frame helps to make use of materials that would otherwise go to landfill. Used keyboards are rarely dealt with correctly, often being placed straight into the bin when they have come to the end of their usefulness. The frame helps to re-purpose the keys of a keyboard helping to display not only your photos but your eco-friendly credentials as well. The Recycled Keyboard Frame makes a wonderful talking point in any home, reminding us all that recycling is indeed the key!
The Recycled Keyboard Photo Frame is yours for just $16.99 and it's available with free shipping too.