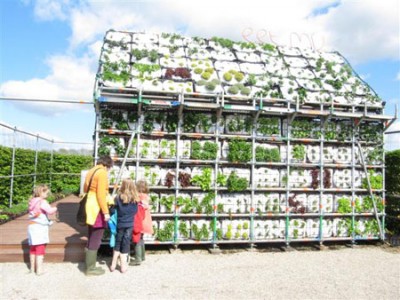 The Eat House is a fun concept for a building made from growing plants. The modular frame houses many vegetable crates, re-purposed into small beds for plant growing, allowing plants to cover the whole of the outside of the building.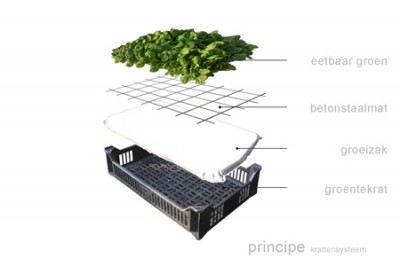 The Eat House has been designed by Marijke Bruinsma from the dutch firm De Stuurlui Stedenbouw and Marjan van Capelle and Arjen de Groot from Atelier GRAS!. The concept takes advantage of modern intensive farming techniques to provide a fruit and vegetable garden that moves beyond the garden and over the whole house. Being so close to all the fresh foods will certainly tempt anyone to pick their own and enjoy, helping to encourage home growing for fresh produce.
The Eat House is created from vegetable crates, the crates used to transport vegetables from place to place. Each crate is converted into a small bed for growing plants such as fruits, vegetables, or herbs in while providing some structural framework for the house. This concept may not be exactly practical for house construction in the future, but does help to demonstrate just how much space we could each be used for growing plants, even those we can eat. The re-use of vegetable crates helps to highlight the number of miles a lot of produce has to travel to finally reach our homes.
Source: iGreenSpot