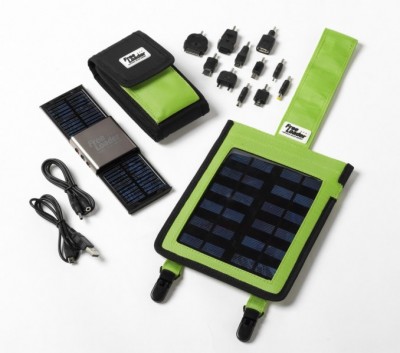 The Freeloader Globetrotter Kit has been designed to help those traveling the far reaches of the planet, or even just the deepest darkest depths of your own back yard.  The kit comes with everything you will need to take full advantage of the sunlight to help power the charger, to help you keep your portable electronic devices running.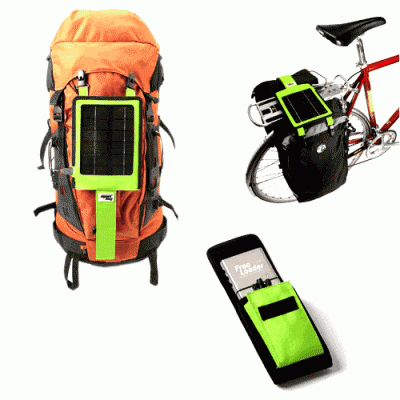 The Freeloader Globetrotter Kit comes with the previously reviewed Freeloader which is a charger that can be used to charge just about any portable electronic device, things like mobile phones, PDAs, MP3/MP4 players, GPS devices, and many other things. To help make the device work more efficiently the Globetrotter kits comes with an added bonus, the Supercharger.
The Supercharger is a flexible weather proof solar panel that has been designed to make it simple to attach to a bag, rucksack, bike or just about anything to allow it to make use of the sunlight available while you are on the move. It can be attached to these items through its two buckles and its Velcro strap to help keep it secure and in place at all times.
On its own the Freeloader can go from empty to fully charged in around 8 hours from solar power alone, however with the Supercharger that time is reduced to 4 hours. This can make all the difference when out and about with one or more power hungry portable devices that you rely on as you can feasibly charge the Freeloader twice in a day. The Supercharger weighs around 200g making it light enough to go unnoticed, its no more than a packet of biscuits.
The kit also includes a protective pouch for your Freeloader to ensure it travels safely with you, protected against any knocks and bumps along the way. This is yet another great bit of kit from Freeloader, along with the Freeloader Pro they have charger products to suit all needs.
The Freeloader Globetrotter Kit is available for just £43.99 with free delivery!